Slideshow
There could be no greater testimony to the high caliber of Cape Dory owners than a loosely planned event – hosted by a couple of newbies, no less – turning out to be a great time. And such was the case for the Lake Michigan rendezvous held Aug. 2-6 at St. James Harbor, Beaver Island, the relaxed island atmosphere and its natural beauty providing the perfect backdrop. Even without a carefully planned schedule, tours, or activities, there was plenty of good conversation, a congenial spirit, and a lot of enthusiasm for the event – and even excited talk about planning one for next year.
Thanks in large part to the efforts of Cathy Monaghan and Great Lakes Fleet Captain Ed Haley, who regularly posted registration reminders to the CD Board, 10 people registered for the event and four boats made the trip. Now this number might be small in comparison to some of our other fleets, but as our Dear Mr. Dunn pointed out in a recent issue of Masthead, the vastness of the Great Lakes shoreline tends to complicate things. (Some quick math indicates that the one-way mileage average of the four boats is roughly 160nm)
When Ariel and her crew, Dave and David VanDenburgh, arrived Sunday evening, August 1, we were greeted with a pretty harbor made more attractive by the presence of two Cape Dorys, SISU (CD28) and Spindrift (CD300MS). After anchoring and settling in, we dinghied over to SISU and met Guy Leslie and Jan Jones. Guy is a long-time Cape Dory owner (first a Typhoon Weekender, then a CD25) and the proud new owner of a beautiful CD28, SISU, which he purchased in Holland, MI, in September 2009 and brought to her new port in Traverse City. When he heard about the rendezvous, Guy was eager to meet up with other CD owners and said he "just had to make it." And make it he did, taking SISU on their first extended trip together. Little did he know he'd have a few more opportunities to "get acquainted" with her as the week progressed. In the true spirit of a rendezvous, however, he found that he had plenty of support as he dealt with tough anchoring conditions and some transmission issues. Much to his credit, Guy remained optimistic and unflappable through it all.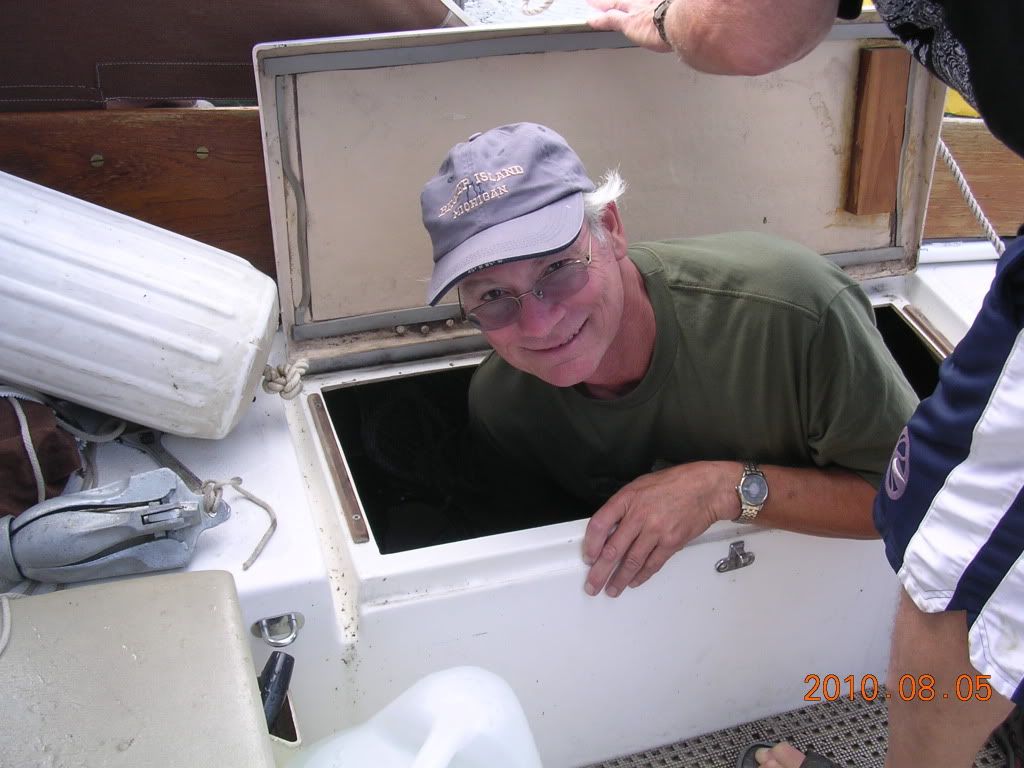 Guy Leslie descending into the engine compartment to ferret out the cause of his transmission woes.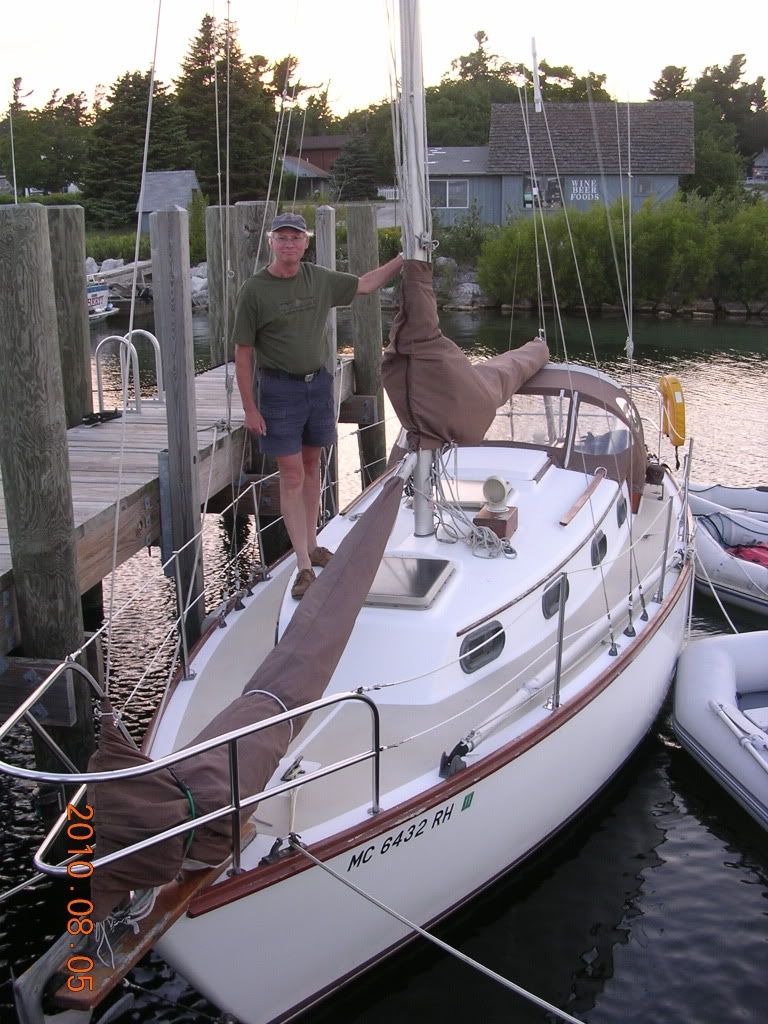 Guy Leslie aboard SISU.
Monday morning dawned rainy and windy, a 15-20 kt southwesterly setting in for much of the week. The gusts proved too much for SISU's anchor and she began creeping downwind through the anchorage, her anchor fouled with weeds. Once SISU was safely re-anchored, we went ashore to meet Bill and Mary Kay Movalson, new owners of Spindrift, a very clean CD 300 Motorsailer out of Gladstone, MI, just north of Escanaba.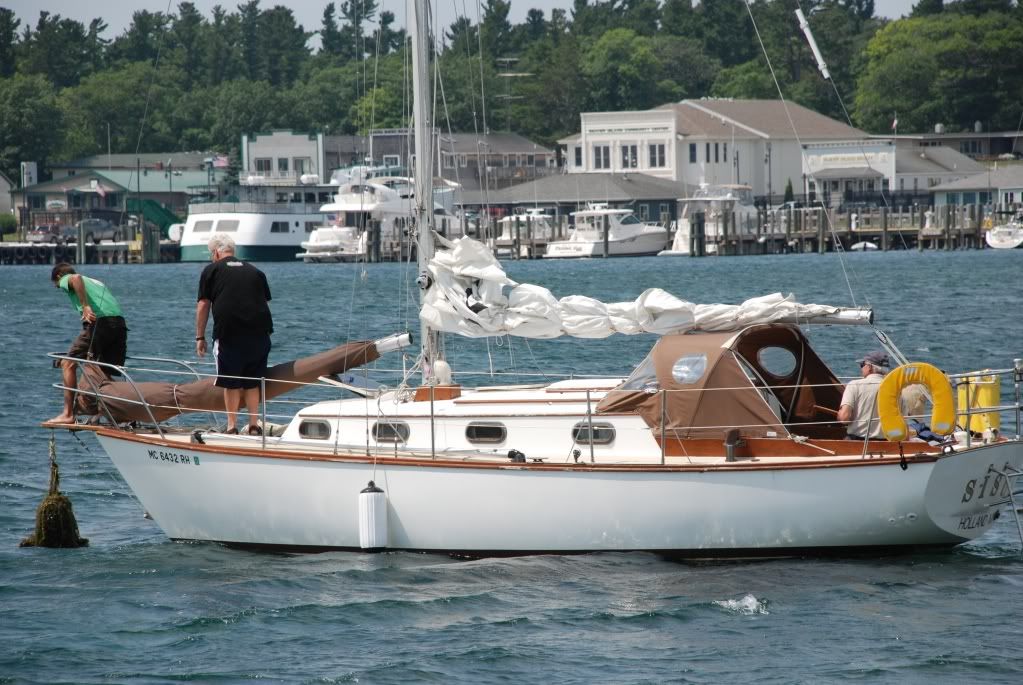 A weedy bottom made for tough anchoring.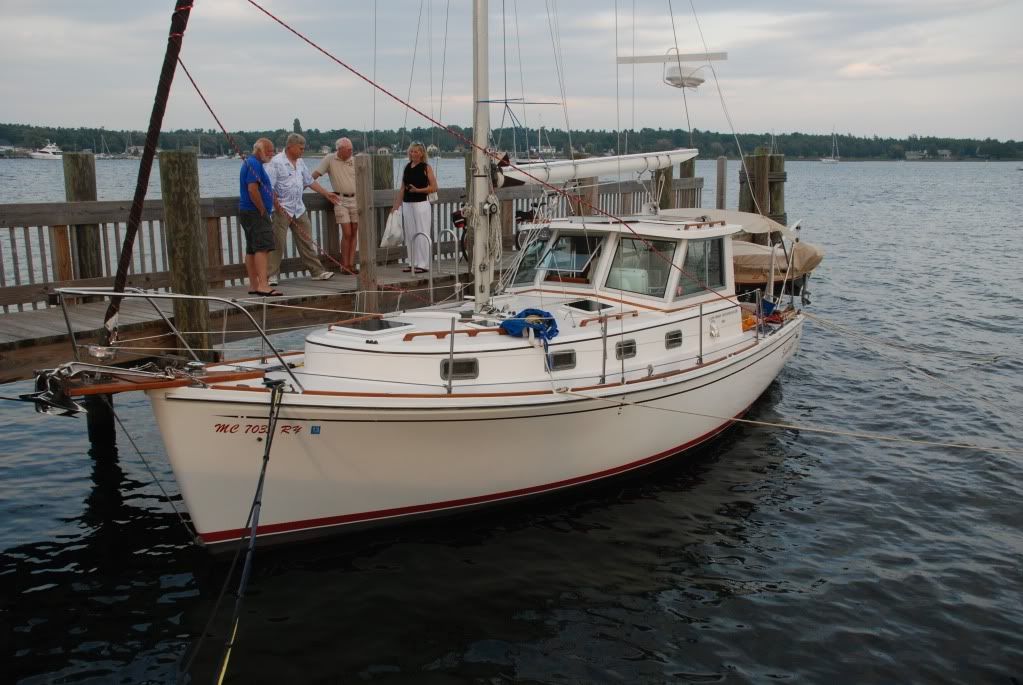 Bill and Mary Kay Movalson's CD 300 Motorsailer, Spindrift
Bill and Mary Kay purchased Spindrift in May and, like Guy, they were excited to hear about the Beaver Island rendezvous. Bill is quite the gadget/innovation guy and has already made a number of upgrades to the boat, including custom dinghy davits and pilothouse doors. Mary Kay is a gracious host and loves the comfortable ride and versatility afforded by the Motorsailer. Bill and Mary Kay had obligations in Mackinac and needed to get an early start in the morning, so the group enjoyed drinks and conversation aboard Spindrift before heading to Shamrock, a local restaurant. Just as we were leaving the dock, Mike Ritenour and Sue arrived aboard La Vida, a CD33. Rit and Sue, exhausted from their 60+ nm trip from Cheboygan (not to mention their earlier travels through Lake Superior and the Soo locks), opted to settle in for the night and anchored in the harbor.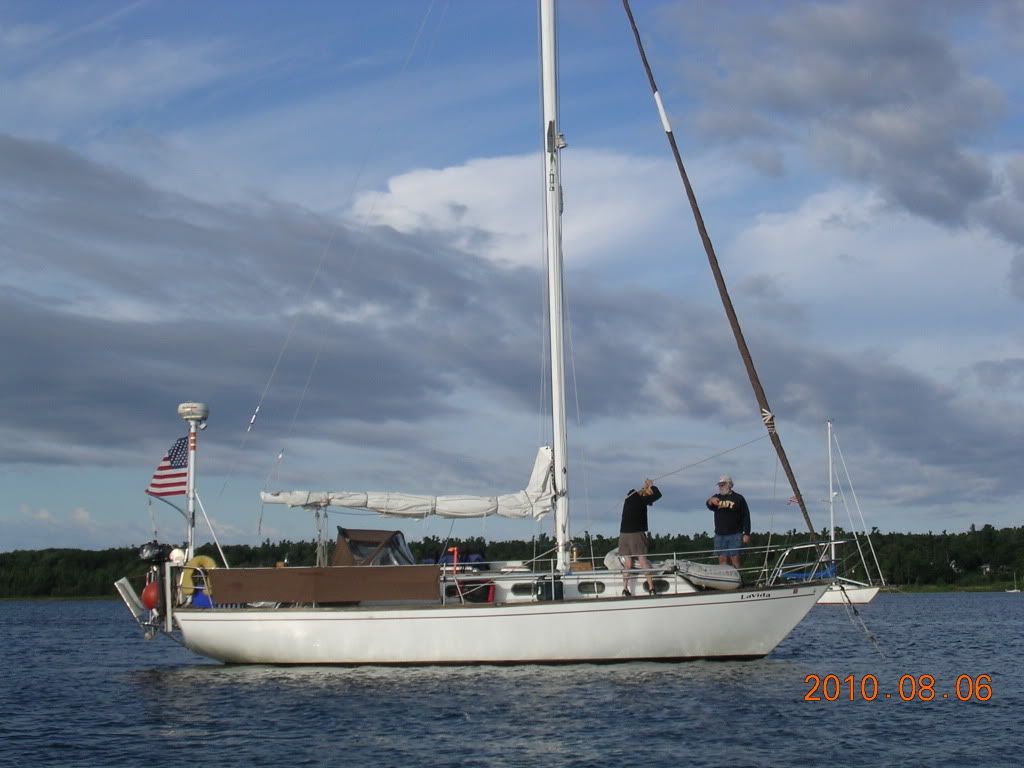 La Vida anchored in St. James Harbor.
The group met in the morning for coffee and breakfast (and yet more great conversation), and then walked over the St. James Boat Shop to check on Bill, a skilled woodworker and old friend of Rit's. Bill and his apprentice make fine cherry buckets and strip canoes. Sawdust covers the floor of the shop and partially completed boats hang from the ceiling or rest on sawhorses. After taking a bit of joshing from Bill, whose 80-something mind is as sharp as ever, Rit added another cherry bucket memento to his collection.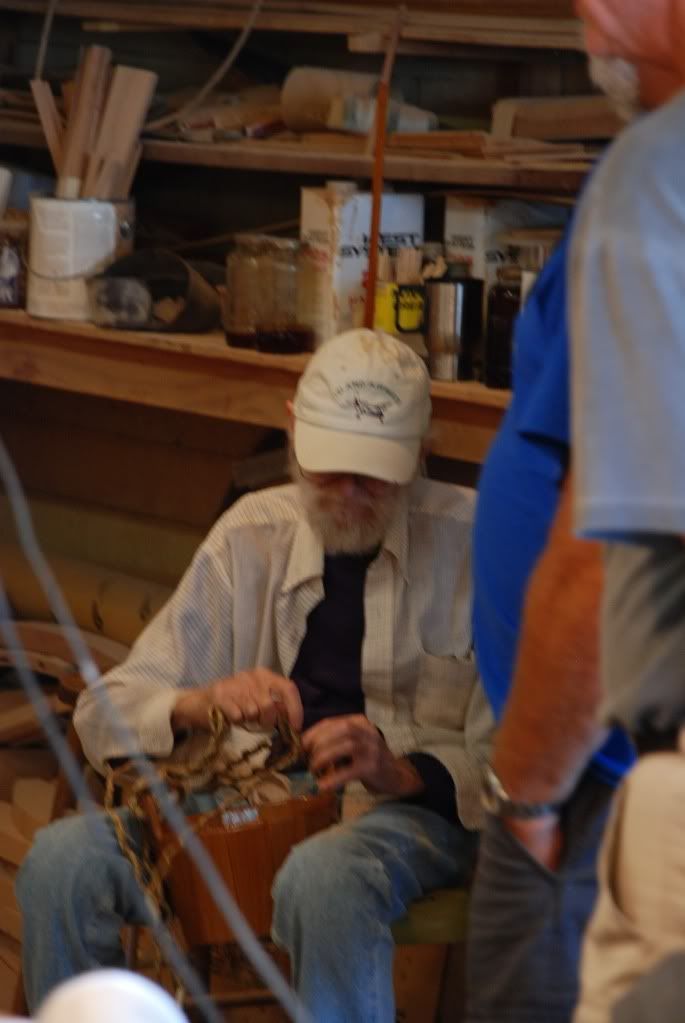 Old Bill splicing a handle for his cherry bucket.
After some exploring and stocking up on groceries, the group migrated to La Vida for drinks and conversation. Rit gave a tour of La Vida, which is absolutely decked out with gear, while Sue listened graciously. For those who don't know, La Vida was a victim of hurricane Hugo and rescued by Rit, who has put some 60,000 miles under her keel since then. To say that she is equipped is an understatement. By Rit's own account, even the Coast Guard during a courtesy inspection finally gave up trying to find fault when they realized they weren't in the presence of your typical Weekend Warrior. Rit's good nature and wonderful companion, combined with his considerable experience, made the time aboard La Vida a real privilege.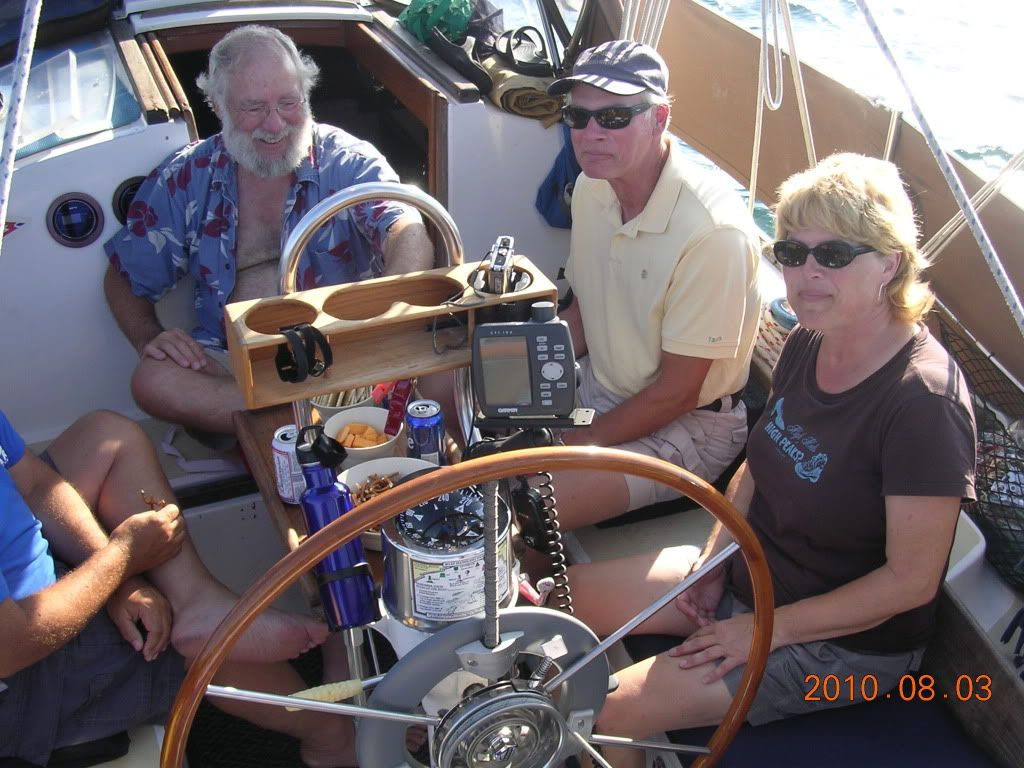 l-r: Michael "Rit" Ritenour, Guy Leslie, Sue
Two members came in by ferry: Kevin LeMans and Great Lakes Fleet Captain Ed Haley. Kevin had originally planned to sail Raconteur, his CD30, but crew plans fell through and he ended up camping on the island with his family and joining the group for breakfast. We hope to meet Raconteur in person at the next rendezvous! Ed Haley traveled and then traveled some more to make an appearance, and we are grateful for his dedication. After completing a 500-mile bike ride through Iowa with his son, Ed drove to Charlevoix and caught the ferry to Beaver Island, arriving just in time to sort out some transmission issues on SISU. Not surprisingly, Ed once owned a CD28, so his experience came in handy.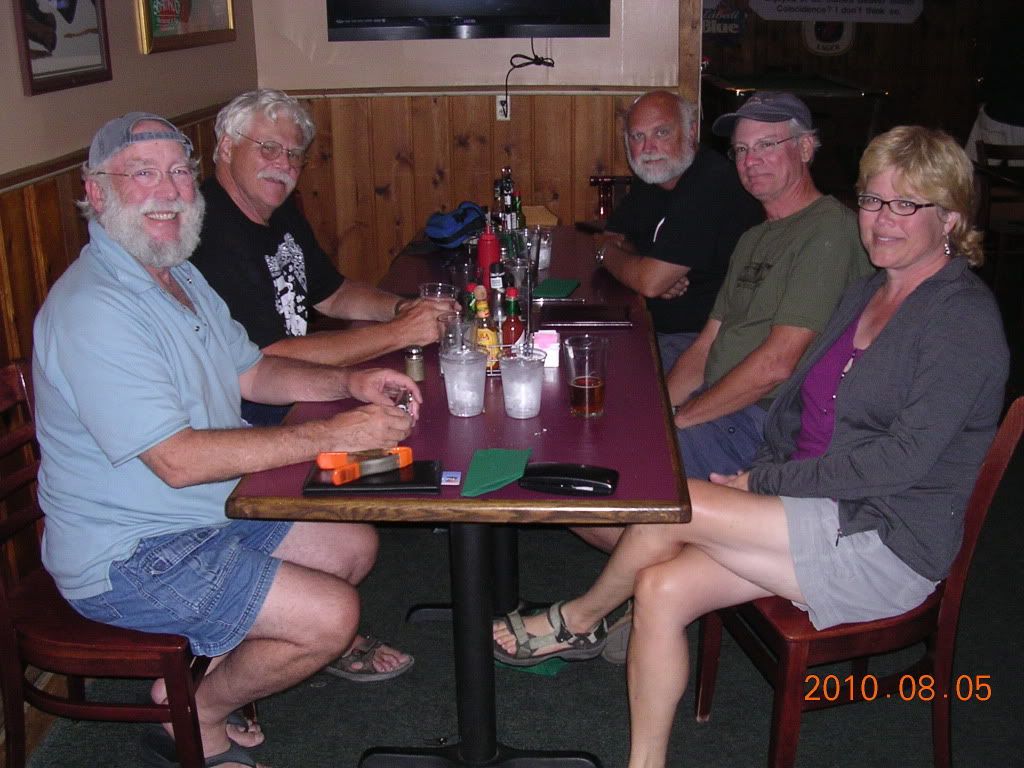 Dinner with the crew the night before departure.
Friday morning brought with it a shift in wind, giving everyone a fair wind home. We said our goodbyes over breakfast, courtesy of the GLF, and set a course for home. Rit, Sue and La Vida set out through Gray's Reef Passage and on to Mackinac; Ariel headed south for South Manitou Island (and St. Joseph); and Ed and Guy messed about with SISU before Ed took the ferry back to Charlevoix. Despite his earlier transmission troubles, Guy made it home safely to Traverse City without a glitch.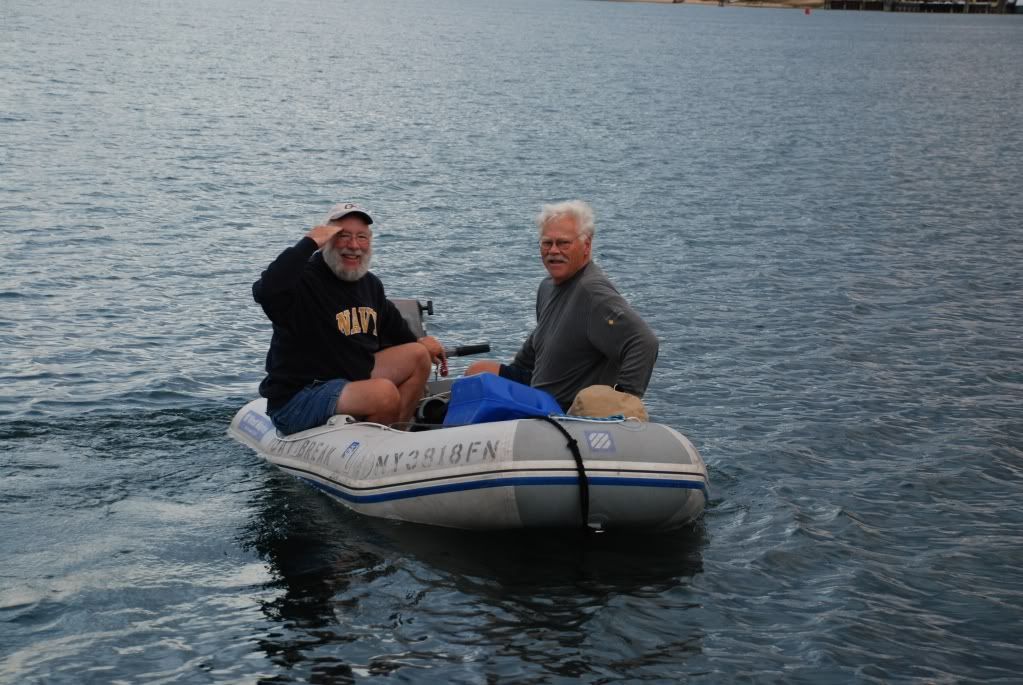 Rit and Ed Haley say goodbye.
Although the newbies might like to take credit for a successful rendezvous, there's no doubt that it was due to the unequaled character of your typical Cape Dory owner. After all, great boats pick great people. Perhaps there will be more great boats and great people next year?! We'll keep you posted.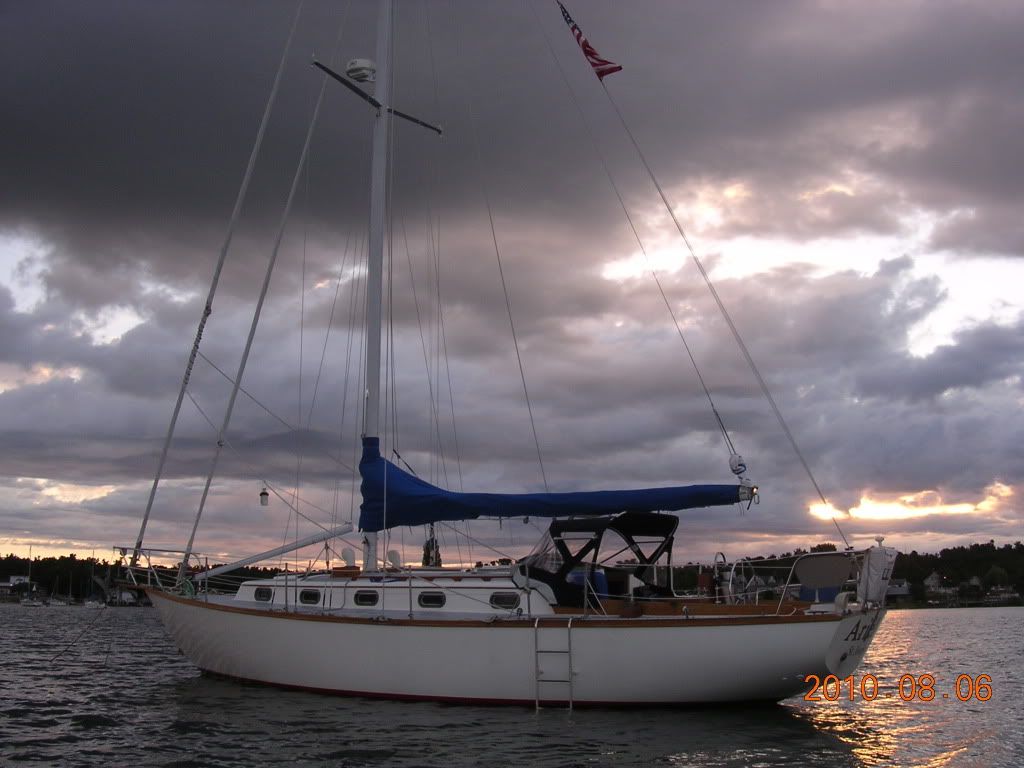 Ariel in early morning sunlight, departure day.